Sports: TNIE Goal 2017
The New Indian Express Group organized GOAL 2017, the sixth edition of its All-Kerala Inter-Collegiate Football Tournament between January 8 and January 22 at the Malappuram District Sports Council Stadium, Kottappady. The Kerala Football Association-approved invitation tournament, an important event in the KFA annual football calendar, saw 24 teams competing for glory under flood lights. There were 23 matches in all, with the opening and final day's matches being telecast live on Asianet Cable Vision across Kerala.
Nirmala College, Muvattupuzha emerged champions following a 2-0 victory over Mar Dionysius College, Pazhanji in a well-attended final. The tournament offered prize money of Rs 2 lakh to the champions and Rs 1 lakh to the runners-up. Apart from that, 10 TVS Apache RTR series motorcycles were given to ten individual award winners.
While AC Moideen, Minister for Industries, Sports and Youth Affairs inaugurated GOAL 2017, Agriculture Minister VS Anilkumar crowned the champions. Kerala Football Association general secretary P Anilkumar greeted the players prior to the final. Malappuram MLA P Ubaidulla, BJP National Executive member V Muralidharan and footballer Kurikesh Mathew were among those who graced the valedictory session.
Goal 2017 witnessed increased support from football lovers, with an enthusiastic crowd turning up for matches under lights. The final saw the 6,500 capacity stadium brimming with fans. The local well-wishers have promised all support to make the next edition an even bigger event. The successful completion of the sixth edition of TNIE GOAL has well and truly placed the tournament as the best-organized football tournament in the state offering the highest prize money and allied player-benefits.
The fact that GOAL 2017 saw a new champion, Nirmala College, further underlines the effectiveness of the TNIE initiative's pre-stated objective - to provide a unique platform for young talent to come through. Interestingly, the runners-up, Mar Dionysius College, made the final for the first time in only their second entry into the tournament.
Such has been the demand from teams to gain an entry into the most prestigious football tournament for colleges that it took MD College four seasons of hard work to prove themselves worthy of participation. Similarly, all colleges with good football teams are now working hard with the aim of becoming TNIE GOAL Champions sooner or later.
The true mark of success of the GOAL initiative was borne by the fact that eight out of 20 players in the current Kerala Santosh Trophy squad had gained attention through the GOAL platform over the years. The New Indian Express Group, along with its partners, has cut a pride of place in the hearts of football lovers as organizers of the most sought after football tournament in Kerala.
Partners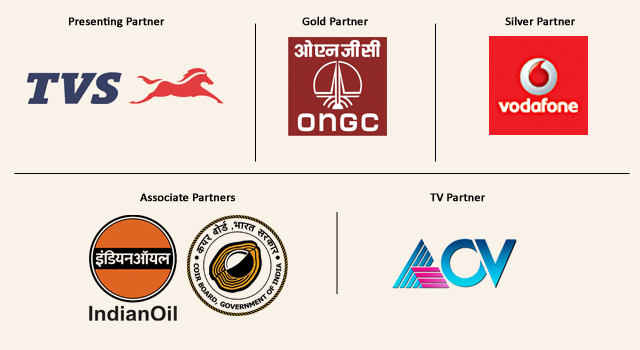 See Event Photos