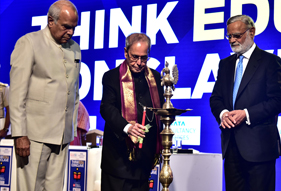 ThinkEdu Conclave 2019
The New Indian Express (TNIE) Group's flagship event, the ThinkEdu Conclave was back with a bang for its seventh edition which was held on February 13 and 14, 2019 at ITC Grand Chola. More than 49 speakers spoke their minds and shared their Ideas for a New India, which was the theme of this year's conclave. The conference was inaugurated by Pranab Mukherjee, former President and Bharat Ratna awardee and Banwarilal Purohit, Governor, Tamil Nadu both of whom shared their thoughts with the audience. An eclectic mixture of speakers were a part of this two-day conclave including politicians like Shashi Tharoor, Smriti Irani, Feroze Varun Gandhi and Subramanian Swamy; bestselling authors like Amish Tripathi and Ashwin Sanghi; stalwarts from the education arena like R Subrahmanyam, Anil D Sahasrabudhe, Anita Karwal, T V Mohandas Pai and others from various fields.
TNIE GOAL 2019
The eighth edition of the GOAL 2019, the annual All-Kerala Inter-Collegiate Football Tournament organised by The New Indian Express Group, was held at the historic Maharaja's College Stadium in Kochi between January 6 and January 20. The top 24 college football teams from four universities of Kerala participated in the tournament. All the matches were held under floodlights; two matches were held every day till the semifinals.