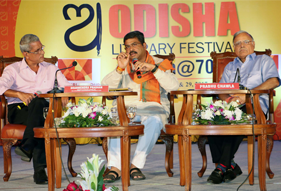 6th Odisha Literary Festival
The New Indian Express successfully hosted the sixth edition of the Odisha Literary Festival on October 28 & 29, 2017. This year's edition was inaugurated by Union Minister for Petroleum & Natural Gas and Skill Development & Entrepreneurship Dharmendra Pradhan. Chief Minister Naveen Patnaik, who has lent invaluable support to the festival through his presence right from the first chapter, delivered the keynote address at the closing ceremony. Patnaik also went on to thank the TNIE group for consistently improving on the quality of speakers that the lit fest brings in. The two-day festival was packed with sessions revolving around the theme India@60. With the highest footfall recorded for the event so far, this edition had a galaxy of eminent personalities from varied fields of politics, economics, history, academics, films, publishing, advertising and brand strategy with luminous contribution to literature shared their vast repertoire of experience and insight with the people of Odisha, widely known for its rich literary heritage.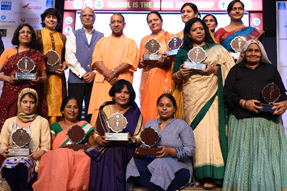 CHAPTER 10 OF DEVI AWARDS
The Sunday Standard hosted the 10th edition of Devi Awards in Lucknow on September 6, 2017. Eleven women, from across the state, were honoured for showcasing innovation and dynamism in their line of work. UP Chief Minister Yogi Adityanath presented the awards to the Devis at the event. In his address, Adityanath congratulated The Sunday Standard for instituting the award and emphasised that women needed all the encouragement they could get for their exemplary work.