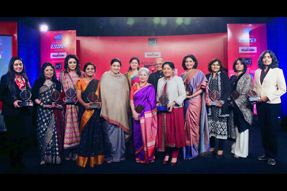 CHAPTER 9 OF DEVI AWARDS
The New Indian Express hosted the Devi Awards in New Delhi on December 16, 2016 and honoured twelve exceptional women from across the country for their innovation, dynamism and courage. Union Minister for Textile Smriti Z Irani presented the trophies to the winners of the third edition of the Delhi chapter of the Devi Awards. Taking about how important it is for women to assert themselves and not be apologetic about their choices, Irani stressed on how much Indian women had evolved over time.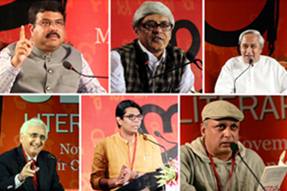 5th Odisha Literary Festival
The New Indian Express hosted Eastern India's biggest literary extravaganza, Odisha Literary Festival on November 5 & 6, 2016 at Bhubaneswar. The fifth edition was inaugurated by Union Minister for Petroleum and Natural Gas, Dharmendra Pradhan. Chief Minister Naveen Patnaik, who has lent invaluable support to the festival through his presence right from the first chapter, delivered the keynote address at the closing ceremony. A galaxy of eminent personalities from varied fields of politics, economics, history, academics, films, publishing, advertising and brand strategy with luminous contribution to literature shared their vast repertoire of experience and insight with the people of Odisha, widely known for its rich literary heritage. With a wide array of contemporary subjects discussed and debated over 12 sessions, the two-day festival was packed with all the ingredients to kindle the minds of intellectuals and the masses alike. The free-for-all festival was well attended adults as well as school and college-going students.